Wilderness Program

Wilderness is a unique program offered to Nageela Boys
Rather than participating in competitive sports leagues, boys in this program have 1-2 sessions a day focused on wilderness activities.

Participants learn basic wilderness survival skills needed to live off the mainland including fire-making, building basic and advanced survival shelters, water collection and purification, setting traps and identifying wild edibles among other creative projects.

This program is unique in providing accelerated emotional growth. The Wilderness Program confirms values of working as a group and the belief that one can accomplish anything so long as he puts his mind to it.

Combined with the encouragement of a positive and a safe environment, this program promotes maturity and responsibility unparalleled by any other program.

Camp Nageela owns a beautiful camping site two miles from the main campus. Activities take place there and on our main campgrounds.

There is an additional $200 fee to join this program.
Camp Nageela East 2015 - All rights reserved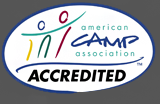 CAMP NAGEELA IS ACCREDITED BY
THE AMERICAN CAMP ASSOCIATION


EAST